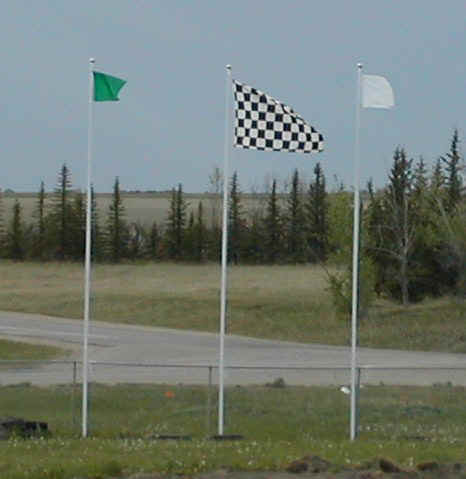 Our Track, 3 Flags Motorsports Park
Autocross
The Corvette Club of Regina is proud to be associated with Three Flags Motorsport Park, the complex at which we host both local and Western Canadian events. A brief review of our Club's autocrossing past seems in order.
In the Eighties we were fortunate to have, at no cost, unlimited Sunday access to the entire North Section of the Southland Mall parking lot. Remember, in those days Regina did not offer Sunday shopping.
Alas, progress dictates change and with shopping expanded to seven days a week the Club found itself without this venue. We subsequently began renting various lots at Regina Exhibition Park which satisfied our needs until surface deterioration made it impossible to continue using them. Following a couple of lean competition years we were able to start renting the lot at the Lawson Aquatic Centre.
Using this property sparingly to avoid aggravating local property owners, we did well for a number of years. Spurred by local residents, the City closed this facility to motor sports groups and we were again without a venue.
That is until some industrious Club members contacted the proprietors of what was at that time a respectable Kart Track located north of Regina adjacent to Highway 11 at Exit C. The Club dipped its toes in the proverbial waters and put on a local event. The following season the track was lengthened and widened to better facilitate cars as well as motorcycles.
Late in 2007 the track changed hands and the new owners, Rod and Flo, embarked on a mission to make this a first class facility. To say their efforts have been a success would be an understatement of titanic proportions. Track resurfacing, curbing, fencing, parking, pit areas…all have been upgraded. Let's not forget the totally refurbished club house boasting, among other things, a large deck with track views and an excellent snack bar, all professionally managed. We now proudly host a number of events each season.
The Corvette Club of Regina is a member of the Canadian Council of Corvette Clubs and as such, stages events boasting participants from Manitoba to British Columbia and all points between. Additionally, we put on local club autocrosses and are pleased on these occasions to share track time with the local BMW Owners' Club. As a rule these occur on Sunday mornings throughout the "non-snow" months. Anyone with an interest in motorsports is invited to come out and take a look. Bring your Corvette (or BMW) and we would be happy to see you participate. Training and tips are available. Once again, enough cannot be said about Three Flags and the principals operating it! Hope to see you at the track.
Garth Hubich